Indianapolis is a mid-western city in the United States.
Indianapolis

Information
Country
United States
Region
Indiana
Area

953.18 km²

Population

829,718 hab.

 (2010)
Postal Code
46201, 46202, 46203, 46204, 46205, 46206, 46207, 46208, 46209, 46211, 46214, 46216, 46217, 46218, 46219, 46220, 46221, 46222, 46223, 46224, 46225, 46226, 46227, 46228, 46229, 46230, 46231, 46234, 46235, 46236, 46237, 46239, 46240, 46241, 46242, 46244, 46247, 46249, 46250, 46251, 46253, 46254, 46255, 46256, 46259, 46260, 46266, 46268, 46274, 46275, 46277, 46278, 46280, 46282, 46283, 46285, 46290, 46291, 46295, 46296, 46298
Fusher
UTC-04:00 Eastern Time
Location
Official Site
Tourist site
Understand
The founders of Indianapolis expected this city to be a large inland port (Great Inland Port), but they neglected the fact that the White River is not navigable most of the year, except in spring. The rest of the time, it forms a mixture of sandbanks and temporary islands. However, this desire to become an important port has left the city a beautiful neighborhood next to the canal that has only recreational use and only serves pedalos and kayaks.
Instead, Indianapolis is called the "America's Crossroads" because of its central role in the US interstate highway system. It is hot in summer, with average maximum temperatures of 30°C in June, July and August. January is the coldest month, with a maximum average of 1.1°C. In some years, the winter is well marked with heavy snowfall and, once in a generation, there is an ice storm. Indianapolis is located in an area hit by tornadoes, but has never been hit by large tornadoes.
In general, Indianapolis is safe, clean, and understandable. Visitors can always find something to do without being overwhelmed by a sprawling metropolis. In a few minutes, you can move from a quiet corn field to a dynamic city center.
Go
By Car
Indianapolis is known as the "American Crossroads" for a good reason. Highways 65, 69, 70, and 74 cross here. The city's ring belt is the I-465. I-70 crosses the city from east to west and I-65 from north to south.
By plane
1

Indianapolis International Airport (IATA: IND)

7800 Col. H.

Weir Cook Memorial Drive

,  

+1 317 487-7243

- It is located about

15 minutes

from the city center (no traffic) and is located in the southwest corner of the city.

Ideally located close to hotels, taxi services, etc.
2

Eagle Creek Aviation Services

4101 Dandy Trail

,  

+1 800 487-3331

-

Located north of the international airport in a small corner of the Westside.
3

Greenwood Municipal Airport

749 E County Line Rd, Greenwood

,  

+1 317 881-0887

-

south of town.
4

Metropolitan Airport

10401 Willow View Rd, Fishers

,  

+1 317 849-0840

-

north, in the chic part of the city.
5

Indianapolis Regional Airport (formerly Mt. Comfort Airport)

3867 N Aviation Way, Greenfield

,  

+1 317 335-3371

-

3867 N Aviation Way, Greenfield.

+1 317 335-3371.
By bus
6

Greyhound

350 S Illinois St

(

located in the heart of the city

),  

+1 317 636-6666

-

Greyhound serves virtually all of North America, so buses arrive and depart more than a dozen times a day from and to all locations.
Burlington Trailways,  

+1 800 992-4618

-

connects Indianapolis to other locations in the Middle West.
Megabus

200 E Washington Street

(

on ​ north side of Washington St. between Delaware St. and Alabama St.

) -

Note that this company does not stop at a bus station, but at an intersection.

If you arrive late at night or in bad weather, you will be exposed to the elements.

The intersection is well lit and safe.

Megabus desert only the Middle West.

Accessible to wheelchairs.

Trip price from 1 $ so booked very early.
By train
7

Amtrak 350 S.

Illinois St.

,  

+1 800 872-7245

-

operates daily between Chicago and Indianapolis and three days a week between Indy and Washington DC and New York City.

Located in the heart of the city, next to Greyhound station.
Circulate
See
Sites and monuments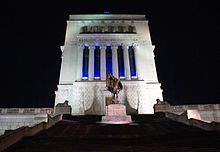 1

Indiana State Capitol 200 W

Washington St

,  

+1 317 233-5293

, email: [email protected] -

Completed in 1888, it is the center of the Indianapolis government.

Originally, the state capital was in Corydon and was moved to Indianapolis in 1825.

The building is made of limestone from Indiana and features a mixture of Italian, Greek, and Corinth Renaissance aesthetics.

Take a look at the incredible German stained glass window, take a guided tour of group or private, or watch the government "at work".

Free parking, paying.

2

Soldier's & Sailor's Monument,  

+1 317 232-7615

(free number) -

It is a famous statue in the heart of the city.

Built in 1902, it is only

4 meters

50 less than the Statue of Liberty.

There are depictions of the civil war battles and the freed slaves, by Miss Liberty, on the upper sides of the South, protecting the North of Confederation.

In the basement is the Colonel Eli Lilly Museum on Civil War and it is possible to take a tour to the top of the tower to enjoy the view of the city.

The small motifs on the monument are a perfect metaphor for the city itself:

a mixture of the hustle and bustle of the city center and the serenity of nature.

There is also a small gift shop.

Parking (on ​ Cirle) and museum entrance free, 1 $ to climb the tower.

3

Indiana War Memorial

400 N Meridian St

,  

+1 317 232-7615

-

The memorial includes a hall of performance and conference and an amazing war museum documenting all American wars.

Paid parking, free entry.

4

Scottish Rite Cathedral

650 N Meridian St

,  

+1 317 262-3100

,

+1 800 489 3579

(toll-free), e-mail: [email protected] -

An architectural masterpiece.

It is the world's largest ancient and accepted Scottish rite cathedral (REAA).

Take a look around and watch the huge organ, the floating dance floor and the hand-made stained glass windows.

Learn more about the mystery of Freemasonry.

There is also a cafe serving snacks.

Free.

5

Indianapolis Zoo

1200 W Washington St

,  

+1 317 630-2001

 Wednesday to Sunday:

9 a.m

-

16 a.m.

..  Adults 10 $, elderly $9, children up to 12 years $8, children under 2 years free. Tuesday: 8 $. Parking: $6, 10 $ for large vehicles.. -

There is the Dolphin Adventures Gallery and the Dome.

The underwater observatory in the form of a dome to see the dolphins is the first of its kind.

This zoo also covers the themes of the plains, the forest, the desert and the zoo itself.

It is possible to feed and mount animals for an extra fee.

The rides such as a small Russian mountain, a carousel and a small train are extra.
6

White River Gardens

1200 W Washington St

,  

+1 317 630-2001

 Wednesday to Sunday

6 am

-

4 pm

..  Entrance fee applies to White River Gardens and fee includes entry to Indianapolis Zoo. Prices vary according to age and season, approximately $10. Paid parking.. -

These gardens are part of the White River State Park, with more than three acres of gardens and trails along the White River.

There is the Hilbert Conservatory, which contains various flowers, plants and special attractions (such as butterflies) throughout the year.

The gardens are non-smoking.
7

Crown Hill Cemetery 700

W 38th St.

 

8 a.m

-

18 a.m.

open until

8 pm

in summer..  Free.. - It is the third largest cemetery in the United States and is considered the "best walk tour" in Indy by Indianapolis Monthly.

You can explore the Gothic Chapel of the late 1800s and other famous burial sites.

You can also get a free map from the office and explore the cemetery by foot, car or bike.

Hundreds of soldiers are buried in beautiful land.

Famous tombs include those of John Dillinger, Frederick Dusenberg, Booth Tarkington, James Whitcomb Riley, Colonel Eli Lilly, President Benjamin Harrison and others.

8

American Legion National Headquarters

700 N Pennsylvania St

,  

+1 317 630-1200

 Monday to Friday,

8 am

-

4 pm 30

..  Free, paid parking.. -

Located in the heart of Indy city center.

Visit the museum that displays hundreds of posters and objects from the First World War and the second, a diorama of the rescue of Jessica Lynch...

9

Garfield Park Conservatory and Sunken Garden

2505 Conservatory Dr

,  

+1 317 327-7184

 Monday to Saturday,

10 am

-

5 pm

.. Sunday,

1 pm

-

5 pm

.. Sunken Gardens is open from

10 am

-

9 pm

from mid-April to mid-October, and from

10 am

-

5 pm

the rest of the year..  Input 1 $. Shows cost $3 per person or $8 by family.. - Inside Garfield Park, the Conservatory's houses,

929

square

meters

, house plants from all over the world.

The Sunken Gardens, built in 1916, are three acres of classic European gardens.

The gardens vary according to the seasons.

10

Medal of Honor Memorial 650 W

Washington St.

 Paid parking, free entrance.. -

This monument is part of the White River State Park and pays tribute to more than 3,000 honorary medalists (from civil war to modern warfare).

It consists of 27 glass walls, each 2-3 meters high, where the names are engraved.

Breathtaking (especially at night!).
Museums
Indiana State Museum 650 W Washington,  

+1 317 232-1637

,

fax

:

+1 317 234-2489

 Tuesday-Saturday

10 am

-

5 pm

, Sunday

11 am

-

5 pm

..  Adults 10 $, 3-12 years $, aged 60 9 $. Admission to the IMAX for an extra fee, combined packages available at reduced prices. On the first Tuesday of the month, the entrance is half price. Parking 3 $... -

The new museum building is one of the most beautiful in the country.

This museum allows you to learn more about Indy history:

from dinosaurs to today, through the civil war and the Second World War.

Explore a room dedicated to the famous Hoosiers (Indiana residents), take advantage of IMAX theater, special events and walk through White River State Park exploring the Indiana County Sculpture Garden.

The small gift shop sells Indiana ornaments as well as gourmet soft drinks, fancy sweets and toys.

The catering area includes a market with fresh local produce and the LS Ayres tea room with its famous chicken soup:

chicken velvet.
National Art Museum of Sports (NAMOS) ,  

+1 317 931-8600

-

One of the world's largest sports collections.

Discover more than 1,000 works on ​ more than 40 different sports ​.

The artists featured include Winslow Homer, LeRoy Neiman, Ogden Pleissner, and more.

Sports enthusiasts and art lovers will be able to find something to suit their tastes.

Due to renovations on the IUPUI campus, the Museum is moving.
Museum of Miniature Houses (Museum of Fine House)

111 E.

Main St.

,  

+1 317 575-9466

, email: [email protected]  Wednesday-Saturday

11 am

-

4 pm

, Sunday

1 pm

-

4 pm

..  $5, $3 children under 10.. -

It's a rare gem, a museum that is specifically interested in miniature houses.

There is also a gift shop and a children's playground.
Indianapolis Museum of Contemporary Art 1043 Virginia Ave., Suite 5,  

+1 317 634-6622

, email: [email protected]  Free, donations welcome.. -

A coalition of local artists came together to set up these magnificent galleries presenting national and international exhibitions concerning modern art.
Crispus Attucks Museum

1140 Dr. Martin Luther King, Jr. St

,  

+1 317 226-2432

, email: [email protected]  Monday to Friday

9 am

-

5 pm

, weekends by appointment..  8 $, students under 17 years old and elderly , group rate 3 $.. -

Located inside the Crispus Attucks school, this museum celebrates the African-American heritage of Indy with art galleries, the history of the school and the success of the students.

Though not as famous as the Chicago or Detroit communities, Indianapolis has a rich black heritage, from the Great Migration of the late nineteenth century, with a quarter of the African-American population.
Indiana Medical History Museum

3045 W. Vermont St.

,  

+1 317 635-7329

, email: [email protected]  February-November: thursday-saturday

10 am

-

3 pm

with visits on time. January and December: Saturday only..  $7, students $5, children 3 $... -

.

It is located in an old building of the public central hospital - a now-closed hospital that had served Indiana for years.

This building is located in the National Register of Historic Places.

The museum offers a visit that shows the old medical equipment, preserved medical specimens, etc.
Eiteljorg Museum of American Indians and Western Art 500 W. Washington St.,  

+1 317 636-9378

 Monday-Saturday

10 am

-

5 pm

, Sunday

12 pm

-5 pm..  Adults 10 $, children 5-17 and students 6 , persons over 65 years 9 $, children under four free. Free parking... -

This museum is the only one of its kind in the Middle West.

There are works by T.C.

Cannon, N.C.

Wyeth, Andy Warhol, Georgia O'Keeffe, Allan Houser, Frederic Remington, Charles Russell and Kay Walkingstick.

The museum also focuses on ​ history ​ Native American artifacts, art, history, and ​ the first inhabitants of this country.

Possibility to have lunch in the restaurant.

The museum also hosts occasional conferences, games and music.

Located in White River State Park, remember to ask for a ticket at a park entrance that includes admission to the park's seven attractions.
President Benjamin Harrison Home

1230 N.

Delaware St.

,  

+1 317 631-1888

,

fax

:

+1 317 632 5488

, email: [email protected]  Monday to Saturday

10 am

-

3 pm

, during the months of June and July open Sundays from

12 h

-

3 h 30

..  Adults 10 $, children 5-17 and students 5 , persons over 65 years 8 $... -

So far, the only president from Indy, he was elected between 1889-1893.

Go around the house, built in 1875, of this hero of civil war built in the style of the Italian Victorian school.

The house is full of antiques, art, political memories and personal items.

The house at the back offers an exhibition on the First Ladies.

Throughout the year, fun events are organized that often include incredible reenactments featuring the historic characters of Indiana.

Naturalization ceremonies and a fun croquet tournament are also organized.
Conner Prairie Interactive History Park (Conner Prairie Living History Museum)

13400 Allisonvile Rd

,  

+1 317 776-6006

,

+1 800 966-1836

(toll-free)  November to March: Tuesday-Sunday

10 am

-

3 pm

, from March to October: Tuesday-Sunday

10 am

-

5 pm

..  Seasonal rate: around

$

6-7 normally, winter holidays 12 $ for adults and $9 for young people. Free parking.. -

Located in the 1880s, the Conner Prairie is suitable for those interested in life in Indiana in the past.

With volunteers dressed in period costume, you are able to discover all aspects of daily life through time:

from forging to cooking, from games to schooling, from agriculture to religion.

Start with the modern museum to discover scientific and anthropological history, then head to the museum of living history, with buildings from the 1880s.

Special exhibitions are held and often change.

In summer, you can have a picnic in the meadow in the evening and enjoy classical and pop concerts.

A restaurant is located on site and a gift shop is located on site.
Indiana Historical Society

450 W. Ohio St.

(

located on the White River Canal

),  

+1 317 232-1882

, email: [email protected]  Tuesday-Saturday:

10 a.m

-

17 a.m.

..  Adults 7 $, aged 60+ 6.5 $, young 4 $, 4 years and less free.. -

An extraordinary place to visit for those interested in the people and places that make up each part of the state.

This museum has a research library, a music room, a projection room, a gift shop and a café.

The Indiana Experience collection changes every eight to twelve months so that you will always find something new and interesting about ​ Hoosier ​.

..
Sport
Indianapolis Motor Speedway Hall of Fame

4790 W. 16th St.

,  

+1 317 492-6747

, email: [email protected]  March-October:

9.00am

-

5.00pm

, November-February:

10 a.m

-

16 a.m.

..  Adults 5 $, children 3 $, 5 years and less free... -

Located inside the house of the Indy 500, it is the world's largest collection of classic and ancient racing cars.

Discover 30 of the cars that won the Indy 500, a

20 min

film on the history of the car race, a souvenir shop and a coffee shop. You can also, for a little money, get on a bus that goes around the actual race track (about 40 miles or

65 km

per hour...

).
NCAA Hall of Champions (NCAA)

700 W. Washington St.

,  

+1 317 916-4255

 Tuesday-Saturday

10 am

-

5 pm

, Sunday

12 h

-

17 h

..  Adults 5 $, youth and seniors of 60+ 3 $, free for children under 5 years old... -

This is the headquarters of the NCAA, located in the White River State Park.

Discover the history of sports in American schools:

athletics, hockey, basketball, cross-country skiing, football...

Gift shop present.
Indiana University Natatorium (The Nat)

901 W. New York St.

,  

+1 317 274-3518

 Monday-Thursday

5:30

-

20h

, Friday

5 h 30

-19, according to school calendar..  Entry $6.. -

Located on the campus of Indiana University, Purdue University Indianapolis, UI Natatorium is a world-renowned swimming and diving site.

The Natatorium has hosted many nationally recognized events.
Art
Ms. Walker Theater

617 Indiana Ave.

,  

+1 317 236-2099

, email: [email protected]  Tuesday-Friday

9 am

-

5 pm

..  The towers cost 8 $, $5 for students and elderly, children under 5 years old come back for free. The price of tickets varies according to the events.. -

Visit the headquarters of the first woman to become by herself a millionaire, Mrs. CJ Walker, built in the 1900s.

Walker began in the cotton market by launching his own line of African-American women's beauty products.

Visit the original salon, watch a concert or play and tour the estate.
Domont Studio Gallery

545 S.

East St.

,  

+1 317 685-9634

, email: [email protected] -

Gallery and Workshop of Artist John J.

Domont.

A beautiful space located in the historic district of Fletcher Place.

Discover the artist at work and, who knows, buy a piece.

It specializes in the modern landscapes of Indiana.
The Stutz Artists Association (Stutz Gallery)

212 W. 10th St.

,  

+1 317 503-6420

-

Originally built in 1918 as the headquarters of the Stutz automotive company, it now houses many local artists, businesses and meeting spaces.

Discover the "show-room" with a collection of Stutz cars (Elvis was driving a Stutz) and snack on something in Bearcats.
Harrison Center for the Arts

1505 N.

Delaware St.

,  

+1 317 396-3886

,

fax

:

+1 317 238-5489

 Monday to Friday

9 am

-

5 pm

open on the first Friday of the month until

9 pm

..  Free.. -

Recently renovated gallery, with an art center and veranda.

Discover four art galleries, 36 artists' studios and the beautiful Presbyterian church there.

Punk and ska concerts take place in the basement on weekends and the first Friday of the month, during which this space opens its doors to a crowd of art lovers.

An important place to discover local art and local populations in a family environment.
Noel Studio/The Sanctuary 75

N.

Main St.

,  

+1 317 733-1117

,

+1 800 444-6635

(toll-free),

fax

:

+1 317 873-2012

, email: [email protected]  Tuesday-Saturday

10 am

-

5 pm

, restaurant open from

11 am

-

3 pm

.. -

Workshop of the world renowned artist N.A.

Noel, famous for her images of angels, children, Amish, and more.

This is the only place where you can see your original work.

A coffee shop and gift shop are located on site.
Make
Parks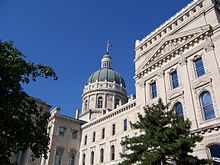 1

Broad Ripple Park 1550 Broad Ripple Ave,  

+1 317 327-7161

-

Created in 1946, Broad Ripple Park was originally an amusement park.

It is located along the White River.

This park includes a swimming pool, playground, health course, baseball and tennis court.

There is also a dog park (a pass and recent proof of dog vaccination are required).

Many dogs, along with their owners, play in this well-maintained, enclosed space on a daily basis.

It can become very muddy in rain or snow.

It is accessible on foot from Broad Ripple Village.
2

Eagle Creek Park

7840 W 56th St

,  

+1 317 327-7110

-

On the west side of Indy, this huge park has many facilities including a nature center, a health course, fishing areas and a bird sanctuary.

Fill your day with sailing, bird watching, fishing, rowing, hiking, swimming and much more.

Only

10 minutes

from downtown.

Admission:

$5 by car.
3

Garfield Park

2345 Pagoda Dr

,  

+1 317 327-7220

 (free parking).. -

The oldest park in Indianapolis, created in 1881.

Among other things, there is the Conservatory and Sunken Gardens, an Arts Center, the MacAllister Center for Performing Arts, a swimming pool and a water center, picnic shelters, a pagoda, tennis courts, numerous trails, playgrounds...

Free for most activities.

4

Holliday Park

6363 Spring Mill Rd

,  

+1 317 327-7180

-

One of the oldest parks in the city.

Located to the right of the White River, it is made up of marshes, ponds, wildflower gardens, ornithological reserves, a renovated nature center, a sculpture garden and home to countless wild animals and plants.

In the warmer months, parents take their children to play on the best playground in the city, and locals picnic, read and gather with their families in this vast park.

95 hectares of trails and forests, to be discovered absolutely!
5

Riverside Park 2420 E Riverside Dr,  

+1 317 327-7171

-

Founded in 1898, it hosts numerous sports leagues, community activities and special events.

It is located on the banks of the White River.

Facilities include a swimming pool, tennis courts, baseball and softball courts, recreational facilities, football pitches and other sports and picnic areas.

6

Southeastway Park

5624 South Carroll Road

,  

+1 317 327-4834

-

It is a park of 188 hectares with 80 hectares of forest, a pond and wetlands, open fields and meadows...

The park includes a playground, several shelters and picnic tables.
Walks and tours
Pedalo on the 801 W Washington St,  

+1 317 233-2434

-

Rent a pedalo to get around the White River canal system.

Explore the tunnels and fountains.

Strolling around the streets of Lockerbie -

Dating back to 1847, it is Indy's oldest existing neighborhood.

Featuring an incredible range of Victorian houses still maintained in their original beauty, mixed with modern houses.

Visit the website to find a map of walks in the area.

Take a gondola ride,  

+1 317 491-4836

-

Only possible during hot months.

To discover a bit of Venice in Indy.

Each tour is accompanied by Italian songs and a visit to the canal.

Take a tour in Segway,  

+1 317 253-1910

-

Visit the gardens of the White River State Park, the canal, Indianapolis museums, etc. Each visit takes about two hours and highlights many of the city's attractions.

These tours can serve as an informative and adventurous overview to start your stay in Indianapolis
Historic places and activities
Playing croquet in the property of President Benjamin Harrison 1230 N Delaware St,  

+1 317 631-1888

Picnic to James Whitcomb Riley's grave
Sport
Indianapolis Motor Speedway

4790 W 16th St

,  

+1 317 492-6747

Indiana Pacers
Indiana Fever
Indianapolis Colts 500 S Capitol Ave,  

+1 317 297-7000

Naptown Rollergirls
Catch a puck at a hockey game 1202 E 38th St,  

+1 317 925-4423

Kart at Post Road Recreation Center 4700 N Post Rd,  

+1 317 897-7908

See a Basketball match at the Hinkle Fieldhouse,  

+1 317 940-8000

See a Baseball game at Victory Field 501 W Maryland St,  

+1 317 269-3545

Play Disc Golf in Brookside 3500

Brookside Pkwy S

,  

+1 317 327-7179

Shop at Lucas Oil Raceway 10267 US Hwy 136,  

+1 317 291-4090

Indianapolis Tennis Center 150

University Boulevard

,  

+1 317 278-2100

Dark Armies Paint Ball 2525 N Shadeland Ave,  

+1 317 353-1987

Bowling any time at the Beech Grove Bowl open 24/24 95 N 2nd Ave,  

+1 317 784-3743

Cycling at Major Taylor Velodrome 3648 Cold Spring Rd,  

+1 317 327-8356

Ice skating at the World Skating Academy
Golf
Brickyard Crossing

4400 W 16th St

,  

+1 317 492-6572

Buffer Park Golf Course

3825 S Foltz St

,  

+1 317 241-5046

Coffin Golf Course

2401 Cold Springs Rd

,  

+1 317 327-7845

Crooked Stick Golf Club 1964 Burning Tree Ln,  

+1 317 844-9938

Dakota Landing Golf Course

6636 S Franklin Rd

,  

+1 317 862-8255

Eagle Creek

8802 W 56th St

,  

+1 317 297-3366

Heartland Crossing

6701 S Heartland Boulevard

,  

+1 317 630-1785

Pleasant Run,  

+1 317 357-0829

Riverside Golf Academy

3702 N White River Pkwy

,  

+1 317 327-7303

Sahm

6880 E 91st St

,  

+1 317 849-0036

Sarah Shank

2901 S Keystone Ave

,  

+1 317 784-0631

Smock 3810 E Country Line Rd,  

+1 317 888-0036

Whispering Hills

10751 Brookville Rd

,  

+1 317 862-9000
Art
Indiana Repertory Theater,  

+1 317 635-5277

Walk between galleries during First Fridays
The Phoenix Theater

749 N Park Ave

,  

+1 317 635-7529

Kuaba Gallery

876 Mass Ave

,  

+1 888 809-9179

See a puppet show at Peewinkle's 25 E Henry St,  

+1 800 849-4853

Murphy Art Center 1043 Virginia Ave,  

+1 317 686-0895

Wheeler Arts Community 1035 Sanders St,  

+1 317 916-8894

Indianapolis Civic Theater 3200 Cold Spring Rd,  

+1 317 924-6700

American Cabaret Theater

401 E Michigan St

,  

+1 317 631-0334

Start the improvised theater at Comedy Sportz 721 Mass Ave,  

+18669152844

(toll-free)  seniors, $6 kids 5-11, under 4 free...
Beef and Boards Dinner Theater

9301 Michigan Rd

,  

+1 317 872-9664

Theater on the Square

627 Mass Ave

,  

+1 317 685-8687

Dance Kaleidoscope 140 W Washington St,  

+1 317 940-6555

Indianapolis Opera
Circle City Sound
Indianapolis Symphony Orchestra
Mind Tripping Show: A psychologically strange comedy 120 W. Market Street,  

+1 317 691-6399
Music
Chatterbox 435 Mass Ave,  

+1 317 636-0584

Emerson Theater

4634 E 10th St

,  

+1 317 357-0239

The Jazz Kitchen

5377 N College Ave

,  

+1 317 253-4900

Local's Only

2449 E 56th St

,  

+1 317 255-4013

Melody Inn,  

+1 317 923-4707

Music Mill

3720 E 82nd St

,  

+1 317 841-1850

Radio Radio

1119 Prospect St

,  

+1 317 955-0995

Slippery Noodle Inn

372 S Meridian St

,  

+1 317 631-6974

Spin

6308 Guilford Ave

,  

+1 317 257-0000

Verizon Wireless Music Center

12880 E 146th St

,  

+1 317 239-5151
Other activities
Fill at Trader's Point Creamery 9101 Moore Rd,  

+1 317 733-1700

Drink a hot chocolate at the Chocolate Cafe 30 Monument Circle,  

+1 317 951-4816

Grab some popcorn at Just Pop In 6302 Guilford Ave,  

+1 317 257-9338

Eat a dessert at Eagle's Nest 1 S Capitol Ave,  

+1 317 632-1234

Go to the flea market at Fairgrounds 1202 E 38th St,  

+1 317 927-1482

Eat fried chicken at MCL Cafeteria

2730 E 62nd St

,  

+1 317 257-5425

Play board games at Game Paradise 1110 E.

Prospect St.

,  

+1 317 972-4263
Buy
Broad Ripple Village
Big Hat Books

922 E Westfield Boulevard

,  

+1 317 202-0203

Broad Ripple Vintage 824 E 64th St,  

+1 317 255-4135

The Bungalow 924 E Westfield Boulevard,  

+1 317 253-5028

Chelsea's

902 E Westfield Boulevard

,  

+1 317 251-0600

Dinwiddies

6216 Carrollton Ave

,  

+1 317 253-2219

French Pharmacy

823 1/2 E Westfield Boulevard

,  

+1 317 251-9182

Girly Chic Boutique

841 E Westfield Boulevard

,  

+1 317 217-1525

Good Earth

6350 E 65th St

,  

+1 317 257-9463

Haus 5910 N College Ave,  

+1 317 257-0659

Luna Music

5202 N College Ave

,  

+1 317 283-5862

The Magic Bus 1073 Broad Ripple Ave,  

+1 317 251-5463

Missing Link Records

4905 N College Ave

,  

+1 317 466-1967

Pitaya

842 Broad Ripple Ave

,  

+1 317 465-0000

Red Rose Vintage 834 E 64th St,  

+1 317 257-5016

Rusted Moon Outfitters

6410 Cornell Ave

,  

+1 317 253-4453

Vibes Music 1051 E 54th St,  

+1 317 726-0927
Fountain Square
Arthur's Music Store 931 Shelby St,  

+1 317 638-3524

Heirloom Classics Jewelry and Beads (formerly Boca Loca Beads)

1311 Prospect St

,  

+1 317 495-1102

Claus' German Sausage & Meats,  

+1 317 632-1963

Days Gone By Antiques 1028 Virginia Ave,  

+1 317 636-1954

Indianapolis Downtown Antique Mall 1044 Virginia Ave,  

+1 317 635-5336
Keystone & the West
The Fashion Mall,  

+1 317 574-4000

Frankey's 1300 E 86th St,  

+1 317 580-1111

Global Gifts 1468 W 86th St,  

+1 317 879-9090
Mass Ave
At Home In The City

434 Mass Ave

,  

+1 317 955-9925

Global Gifts 446 Mass Ave,  

+1 317 423-3148

City Market

222 E Market St

,  

+1 317 634-9266

Luna Music

431 Mass Ave

,  

+1 317 917-5862

Mass Ave Toys

409 Mass Ave

,  

+1 317 715-9158

Out Word Bound

625 N East St

,  

+1 317 951-9100

The Best Chocolate In Town 880 Mass Ave,  

+1 317 636-2800
Wholesale District
Circle Center Mall,  

+1 317 681-5615

Downtown Comics 11 E Market St,  

+1 317 237-0397
North suburb
Clay Terrace 14300 Clay Terrace Boulevard,  

+1 317 566-0011

Brown's on 5th 315

N 5th St

,  

+1 317 873-2284

Captain Logan 150 S Main St,  

+1 317 873-9999

Hamilton Town Center

13901 Towne Center Boulevard

,  

+1 317 214-6956
West suburbs
Lafayette Square Mall 3919 Lafayette Rd,  

+1 317 291-6390

Metropolis

2499 Futura Park Way

,  

+1 317 203-4555
Eat
Cheap
Bakeries
Chocolate Cafe 30

Monument Circle

,  

+1 317 951-4816

Donut Shop 5527 N Keystone Ave,  

+1 317 255-3836

Rene's Bakery

6524 Cornell Ave

,  

+1 317 251-2253

The Flying Cupcake

715 Massachusetts Ave

,  

+1 317 536-0817
Sandwich and similar snacks
96th Street Burgers

4715 E 96th St

,  

+1 317 844-6351

Au Bon Pain 1701 Senate Avenue,  

+1 317 926-5840

Badaboomz 4930 Lafayette Rd,  

+1 317 291-6932

Boogie Burger 927 Westfield Boulevard,  

+1 317 255-2450

Buffalo Wild Wings
Fountain Dinner 1105 Prospect St,  

+1 317 685-1959

Mug-N-Bun Drive-In

5211 W 10th St

,  

+1 317 244-5669

Peppy Grill 1004 Virginia Ave,  

+1 317 637-1158

Red Eye Cafe 1904 Broad Ripple Ave,  

+1 317 972-1500
Asian food
The Bosphorus Istanbul Cafe 935 S East St,  

+1 317 974-1770

Shalimar 1043 Broad Ripple Ave,  

+1 317 465-1100

Side Wok Cafe 1087 Broad Ripple Ave,  

+1 317 722-1090
Others
Bazbeaux Pizza
Greek Islands

906 S Meridian St

,  

+1 317 636-0700

Iaria's,  

+1 317 638-7706

Indianapolis City Market

222 E Market St

,  

+1 317 634-9266

New Bethel Ordinary 8838 Southeastern Ave,  

+1 317 862-5020

Seasons 52,  

+1 317 846-5252

Three Sisters Cafe 6360 Guilford Ave,  

+1 317 257-5556

Wheatley's 8902

Southeastern Ave

,  

+1 317 862-6622

Yats
Average Price
A2Z Cafe 4705 E 96th St,  

+1 317 569-9349

Ambrosia

915 E Westfield Boulevard

,  

+1 317 255-3096

Andrus O'Reilly's 36 S Pennsylvania St,  

+1 317 974-0674

Barcelona Tapas

201 N Delaware St

,  

+1 317 638-8272

Black Market Indy

922 Massachusetts Ave

,  

+1 317 822-6757

Capri 2602 Ruth Dr,  

+1 317 259-4122

Champps 8711 River Crossing Rd,  

+1 317 574-0333

Claddagh Irish Pub
Edelweiss Restaurant

8602 S Meridian St

,  

+1 317 888-6940

India Garden 830 Broad Ripple Ave,  

+1 317 253-6060

Jonathan Byrd's Cafeteria 100 Byrd Way,  

+1 317 881-8888

The Peep
Luxor

1026 S Virginia Ave

Mark Pi's China Gate 1439 E 86th St,  

+1 317 254-8839

Naked Tchopstix

6253 N College Ave

,  

+1 317 252-5555

The Oceanaire Seafood Room 30

S.

Meridian Street

,  

+1 317 955-2277

Santorini Greek Kitchen 1417 E Prospect St,  

+1 317 917-1116

Shapiros Delicatessen
Thai Cafe 1041 Broad Ripple Ave,  

+1 317 722-1008
Luxury
Amalfi's 1351 W 86th St,  

+1 317 253-4034

Corner Wine Bar

6331 Guilford Ave

,  

+1 317 255-5159

Dunaway's 351 S East St,  

+1 317 638-7663

Elements 415 N Alabama St,  

+1 317 634-8888

Fleming's

8487 Union Chapel Rd

,  

+1 317 466-0175

Explorer

6523 Ferguson Ave

,  

+1 317 726-6906

Midtown Grill 815 E Westfield Boulevard,  

+1 317 253-1141

Mo's,  

+1 317 624-0720

P.F. Chang's
Palomino 49 W Maryland St,  

+1 317 974-0400

R Bistro 888 Mass Ave,  

+1 317 423-0312

Rathskeller,  

+1 317 636-0396

St. Elmo Steak House 127 S Illinois St,  

+1 317 635-0636

Sullivan's

3316 E 86th St

,  

+1 317 580-1280

Taste 5164 N College Ave,  

+1 317 925-2233

The Villa 1456 N Delaware St,  

+1 317 916-8500
Drink a drink / Go out
Coffee
Cornerstone Coffee

651 E 54th St

,  

+1 317 283-1360

Lazy Daze Coffee House 10 S Johnson Ave,  

+1 317 353-0777

Mo'Joe Coffee House 222 W Michigan St,  

+1 317 822-6656

Monon Coffee Company

920 E Westfield Boulevard

,  

+1 317 255-0510

Net Heads Cybercafe

1011 E Westfield Boulevard

,  

+1 317 257-6635
Alcohol and cocktails
501 Eagle 501 N College Ave,  

+1 317 623-2100

Alley Cat

6267 Carrollton Ave

,  

+1 317 257-4036

Blu 240 S Meridian St,  

+1 317 955-8585

Bourbon Street Distillery 361 Indiana Ave,  

+1 317 838-3316

Broad Ripple Brew Pub 840 E 65th St,  

+1 317 253-2739

Brugge Brasserie
The Casba

6319 Guilford Ave

,  

+1 317 251-3138

Chalkie's 5603 E 82nd St,  

+1 317 578-2221

Chatham Tap 719 Mass Ave,  

+1 317 917-8425

Claddagh Irish Pub (downtown)

234 S Meridian St

,  

+1 317 822-6274

Coaches Tavern

28 S Pennsylvania St

,  

+1 317 917-1191

Club Level 120 E Market St,  

+1 317 964-0400

Elbow Room 605

N Pennsylvania St

,  

+1 317 635-3354

English Ivy's 944 N Alabama St,  

+1 317 822-5070

Front Page 310 Mass Ave,  

+1 317 631-6682

Jillian's 141 S Meridian St,  

+1 317 822-9300

Kellerbar at the Rathskellar,  

+1 317 636-0396

MacNiven's 339 Mass Ave,  

+1 317 632-7268

Metro 707 Mass Ave,  

+1 317 639-6022

Mo's Loading Dock,  

+1 317 637-2680

Nicky Blaine's

20 N Meridian St

Old Point Tavern 401 Mass Ave,  

+1 317 634-8943

Plump's Last Shot

6416 Cornell Ave

,  

+1 317 257-5867

Red Key

5170 N College Ave

,  

+1 317 283-4601

Talbott Street

2145 N Talbott St

,  

+1 317 931-1343

Ten 1218 N Penn St,  

+1 317 638-5802

Therapy 605 E Market St,  

+1 317 632-0325

The Unicorn

122 W 13th St

,  

+1 317 262-9195

The Vogue

6259 N College Ave

,  

+1 317 259-7029

Whistle Stop

375 South Illinois Street
Wine bars
Buck Creek Winery

11747 S. Indian Creek Road

Chateau Thomas Winery

6291 Cambridge Way

Easley Winery

205 N College Ave

,  

+1 317 636-4516
Stay
Residence Inn Indianapolis Airport

5224 West Southern Avenue

,  

+1 317-244-1500
Cheap
Indy Hostel 4903 Winthrop Ave,  

+1 317 727-1696

Quality Inn

8325 Bash St

,  

+1 317 577-0455

Serendipity Haus

1423 Hoyt Ave

,  

+1 317 236-9844

Suburban Extended Stay Northeast Hotel 8055 Bash St,  

+1 317 598-1914
Average Price
Brick Street Inn 175 S Main St,  

+1 317 873-9177

Comfort Suites 4125 Kildeer Dr,  

+1 317 791-9610

FantaSuite 1117 E Main St,  

+1 317 882-2211

Quality Inn Downtown South

4502 S Harding St

,  

+1 317 788-4774
Luxury
The Alexander (Dolce Hotel Alexander)

333 South Delaware Street,

,  

+1 855 200 3002

15 North,  

+1 317 255-8002

Canterbury Hotel,  

+1 317 634-3000

Conrad Indianapolis 50

W Washington St

,  

+1 317 713-5000

Crowne Plaza at Union Station 123 W Louisiana St,  

+1 317 631-2221

JW Marriott Indianapolis 10

South West Street

,  

+1 317 822-8554

The Kendall Inn 5830 N Post Rd,  

+1 317 591-7280

Sheraton Indianapolis City Center 31 W Ohio St,  

+1 317 635-2000

The Westin Indianapolis 50 S Capitol Ave,  

+1 317 262-8100

The Villa,  

+1 317 916-8500

Yellow Rose Inn 1441 N Delaware St,  

+1 317 636-7673
Communicate
The surrounding area